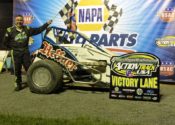 Wednesday, May 25, 2016
At JeffreyHogueRealtor.com Action Track USA
Kutztown, PA
USAC All Pro SpeedSTR Feature, 30 laps: 1.Billy Pauch Sr., 2.Billy Pauch Jr., 3.Steve Buckwalter, 4.Mike Bednar, 5.Steve Nederostek, 6.Andy Haus, 7.James Morris, 8.Brad Brightbill, 9.Matt Janisch, 10.Louden Reimert.
Hyper Racing 600 Sprint Feature, 25 laps: 1.Sam Kravitsky, 2.James Morris, 3.Billy Pauch Jr., 4.Robbie Hocker, 5.Josh Heckman, 6.Greg Stevens, 7.Eddie Strada, 8.Jay Hartman, 9.Bobby Butler, 10.Brandon Azzalina.
NAPA Auto Parts All Star Slingshots Feature, 20 laps: 1.Brett Bieber, 2.Dylan Hoch, 3.Seth Spayd, 4.Joe Nemeth, 5.Travis Bieber, 6.Austin Stufflet, 7.Alex Yankowski, 8.Dave Carraghan, 9.Chris Kurtz, 10.Dakota Kohler.
Junior Slingshots Feature, 15 laps: 1.Jared Silfee, 2.Cole Stangle, 3.Reece Nowatarski, 4.Joshua Allen, 5.Joey Vaccaro, 6.Gavin Santee, 7.Logan Bauman, 8.Tyler Ulsh, 9.Tommy Stillo, 10.Tyler Banks.
NOTE: the full race results press release and complete order of finish for each division will be distributed on Thursday night.