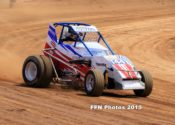 SpeedSTR Roster Gets Added Talent
by Mike Feltenberger
The 2014 SpeedSTR National Championship roster had quite a varied list of talented drivers from all classes of racing,from champion Billy Pauch,Sr who has driven basically everything that has 4 wheels to Mike Vermeulen,who decided to start his racing career in a SpeedSTR.
Among some of the Illustrious 11 were DIRT Hall of Fame driver Frank Cozze,ARDC,open wheel and modified driver Tim Buckwalter,Kenny Brightbill,who has won in modifieds,late models,sprints and SpeedSTR's,Canadian teenage sensation Maxime Plante and Billy Pauch,Jr. who will not turn down any opportunity to wheel any type of race car.
10 time Grandview Speedway point champion,Jeff Strunk will be returning,sportsman modified ace Brad Brightbill (more…)