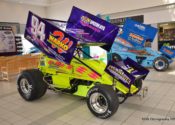 30th Annual BSOHA Reading Racing Reunion Underway Despite Snowy Start
Reading, PA – The 30th Annual Berks-Schuylkill Oil Heat Association Reading Racing Reunion & Car Show, presented by Weichert Realtors Neighborhood One Action Track USA, began on February 22nd at the Fairgrounds Square Mall, despite a snowstorm on Saturday the 21st that impacted the move-in. Approximately three-quarters of the racecars now on display made the somewhat treacherous trip to Muhlenberg Township and rolled in after the mall closed at 9 p.m.
"We are extremely grateful to the mall management for allowing us to move in additional cars on Sunday morning and again on Sunday evening. They understood the difficulty of towing trailers in that weather and permitted us to give race teams the option to move in on Sunday, when the conditions were better. And we thank the racers who did brave the elements and brought their cars on Saturday night," said show director Brad Reinert.
With the assistance of some of the staff and management team from Action (more…)