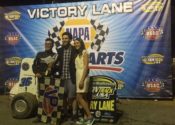 Kutztown, PA –  It's a good bet that Tim Buckwalter is not looking forward to the end of the 2016 racing season.
  That's because the Douglassville, PA wheel-twister is having an incredible year in both the USAC All Pro SpeedSTR and Hyper Racing 600 Sprint divisions at the JeffreyHogueRealtor.com Action Track USA on the Kutztown Fairgrounds.
It's also fair to say that things may be a bit tense between Tim and cousin Steve at the next Buckwalter family reunion.
  Tim Buckwalter captured his second consecutive SpeedSTR victory at Action Track USA on Wednesday night, giving him a total of three for the season. He's also wracked up a division leading four triumphs in the 600 Sprint class. And he's also been a winner – on multiple occasions – in both SpeedSTRs and 600 Sprints at Linda's Speedway in Jonestown, PA.