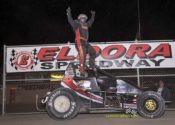 Kutztown, PA –  When the green flag waves to begin the fifth season of activity at the JeffreyHogueRealtor.com Action Track USA, a new name – one with a very impressive resume` – will join the USAC All Pro SpeedSTR division, bolstering an already strong Wednesday night field of competitors.
  Matt Westfall, from Pleasant Hill, Ohio, will make the weekly trip to Action Track USA on the Kutztown Fairgrounds, to steer a brand new SpeedSTR owned by Milt Aquilini. The car is complete and ready to go, and it will be on display in the Speedway Entertainment/ Action Track USA booth at this weekend's Motorsports Show in Oaks, Pa.
  "The Flying Buckeye" jets to the Berks County oval with a set of very solid credentials. Westfall has been racing since the age of six (he turned 40 years-old in December), and he's driven just about everything with four wheels…Karts, Mini-Sprints, both winged and wingless Sprint Cars, Midgets, Modifieds, and Late Models. He was also named the 2002 Rookie of the Year in USAC's Silver Crown division.