RAIN HALTS REMAINDER OF ACTION TRACK SUNDAY EVENT; AIDAN DONALDSON WINS JUNIOR SLINGSHOT FEATURE
jaydugan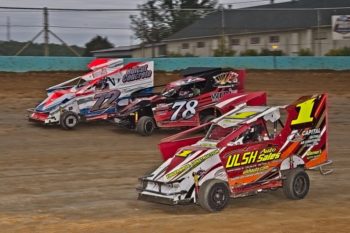 KUTZTOWN, PA (June 3, 2018) — With rain falling heavily after the completion of the Junior Slingshot Feature event Championship Energy Action Track USA officials were forced to cancel the remainder of Sunday's Glick Fire Equipment First Responders Night presented by Belfor Property Restoration of Allentown.
Rain fell heavily at the completion of the Junior Slingshot event, and while track officials worked quickly and diligently to gain control of the racing surface a second rainfall halted their efforts. The untimely precipitation forced the postponement of the USAC All-Pro SpeedSTR, Hyper Racing 600 Sprint, and All Star Slingshot main events.
Aidan Donaldson scored the win in the Junior Slingshot Feature event. Donaldson started in the front row of the 15 Lap main event and shot to the early lead, with Kasey Hufcut and Tyler Ulsh charging quickly into the second and third positions. Mid-race contact between Hufcut and Donaldson handed the lead over to Ulsh, but Hufcut battled back as the pair raced side-by-side throughout the entire white flag lap. As the checkered flag flew, heavy contact sidelined Ulsh and Hufcut leaving the pair of young racers stopped at the top of turn four, allowing Donaldson to claim the Junior Slingshot Victory.
USAC All Pro SpeedSTR Heat Races were won by Jeff Hartman, Tommy Kunsman, and Andy Haus. Hyper Racing 600cc Heat Races were won by Richie Hartman, Austin Quick, Damon Paul, Tim Buckwalter, and Danny Buccafusca. Slingshot Heat Races were won by Jared Silfee and Taylor Mills.
Information about the rescheduling of the three remaining feature events will be announced shortly and fans are encouraged to follow along at www.actiontrackusa.com for further information.
Championship Energy Group Action Track USA returns with back-to-back racing events on June 10 and June 13.
Sunday, June 10 is Scout Night — where all Scouts in uniform will receive free grandstand general admission — with the SpeedSTRs, 600 Sprint Cars, and the Slingshots.
And then again on Wednesday, June 13 for the Future Farmers of America Flying Farmer 40 — a $3,000-to-win SpeedSTR main event, plus the 600 Sprint Cars, and the Slingshots.
Race time on Sunday, June 10 is 5 p.m. (warm-ups) with qualifying races going green immediately following the hot lap sessions. The time schedule moves back by one hour on Wednesday, June 13 with warm-ups beginning at 6 p.m.
RESULTS
Junior Slingshot Feature, 15 laps: 1.Aidan Donaldson, 2.Shelby McLaughlin, 3.Paulie Hartwig III, 4.Logan Bauman, 5.Tyler Ulsh, 6.James Hendricks, 7.Wyatt Taschler, 8.Payton Nemeth, 9.Makayla Kohler, 10.Morgan LaBuda, 11.Kasey Hufcut, 12.Jax Yohn.